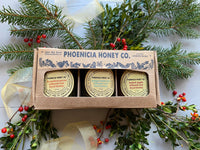 *NEW* Holiday Gift Box with Limited Edition Honey Varieties
Pie is ❤️ - our newest gift box is here, right in time for the holidays! Featuring 3 new & limited edition honey varieties!
Baked Apple Infused Honey 
Brandied Pecan Infused Honey

Peppermint Stix Infused Honey
Shop Gift Boxes >
15 oz First Aid Honey now available!
Our bestselling honey is the perfect gift! Available in 9 oz & 15 oz size jars.

This honey is infused with medicinal plants to make a potent blend that will boost your immune system and nip a cold in the bud.
This healing blend is a must-have for your holistic healing toolbox.
Shop this honey >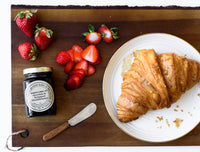 At Phoenicia Honey Co.
Our chef-crafted infused honeys are subtle and delicious sourced from the gorgeous Catskill Mountains. All made by our queen bee Rebecca. Specialty honeys, all natural bath and body made with beeswax, custom gifts and more. We are working hard to create a farm shop but for now, pick yours up online, at our studio in Phoenicia, or at your favorite specialty shop, Farm stand or grocer. Either way treat yourself to our glorious honey: it's a perfect "escape" to the country.